(The above year 2000 panorama is 3 videotaped pictures pieced together "cinerama" style)
SPECIAL OVER 50/60 BASEBALL RULES WILL BE AVAILABLE SOON
CLICK HERE TO VIEW 1999-2007 NATIONAL FUN TOURNAMENT PICTURES
IF YOU ARE A TOURNAMENT VETERAN AND YOU NEED ASSISTANCE, PLEASE CONTACT HOWARD, THE NATIONAL TOURNAMENT FOUNDER
Click here to email the tournament founder: howard@over50baseball.com

View the Over 50 Baseball Guestbook
Sign the Over 50 Baseball Guestbook

CLICK HERE TO VISIT THE 2004-PRESENT DENVER OVER 60 BASEBALL LEAGUE WEB PAGES
Master.com.content
---
INFORMATION & FAQ'S ABOUT THE OVER 50 & OVER 60 BASEBALL NATIONAL FUN TOURNAMENTS
The purpose of this web site is to promote Over 50 Baseball across the United States and to stimulate interest in the eleventh annual "NATIONAL FUN TOURNAMENT" in Las Vegas during October 24 - October 30, 2010. Please notice that the emphasis is on FUN! This is not a "win at all costs" type event. Yes, it it competitive, but the rules for this tournament prevent any team or manager from taking unfair advantage of almost any situation. As long as you have played any form of organized baseball (hardball) during your lifetime, you have the minimum experience required to pre-register and participate in these tournaments. This year, the tournaments will involve a total of up to 18 teams. Each team will usually have only 11 or 12 players maximum, which means lots of "at-bats" and defensive playing time for everyone. (Everyone is always in the batting order and everyone plays defense as required by the rules.) Additional player draftees (volunteers selected to play on more than one team) and emergency back-up players from other teams will be utilized to insure against forfeits. Please read the Addendum to the Rules (which will be available in the late summer) for clarification concerning player borrowing and/or sharing.
Registration will be on a first-come, first-served basis. Each team will be scheduled to play only one game per day, and most games in the 2010 tournament will be played in an early or noon time slot daily. That will insure plenty of free time every late afternoon and evening in Las Vegas for added fun and excitement. Also, each team will be guaranteed a minimum of 5 games (Monday through Friday). All teams will be entered in a semi-final playoff game (their fifth game on Friday) at their appropriate competitive level. Winning teams from semi-final action will play a sixth game on Saturday for their specific championship level. The daily tournament schedule (pool play) will be set up each evening for the following day after each day's scores have been recorded and evaluated. Then, the most appropriate schedule will be posted for the next day's action. Winning teams will play winning teams, and losing teams will play losing teams. On each subsequent day, the same scheduling procedures apply by insuring that teams with overall identical tournament records are playing against each other. By the end of four days of competition, all teams will be seeded from first to last, based upon their tournament record. For example, the 4 teams with no better than a 1 win and 3 loss record will comprise the 50A playoffs. The 50AA playoffs will be comprised of the best "1 win and 3 loss team" and mostly teams with a 2 and 2 record. This same procedure will be carried out to the highest level (either 50AAA or 50AAAA), which will be comprised of at least one undefeated team and the remaining teams in that bracket having no more than one defeat. In other words, this will be a tournament within a tournament. No other national tournament treats all of its teams (and especially individual players) in such a fair and equitable manner. By the end of the tournament week, your team will be competing in the playoffs against teams of similar caliber. What could be fairer?
Since most teams entering the tournament cannot be absolutely sure about their appropriate competitive level before the tournament begins, the results of each day's games influence which teams will play against each other on each subsequent day. Unlike other tournaments where every team is given their complete "pool" schedule at the beginning of the event, your team (as well as all of the others) will only receive their first game assignments (by subjective decision). Therefore (as explained in the previous paragraph), each team earns its appropriate competitive level by the time they reach the playoffs. In a 16 team tournament (the largest preferred size), the top 4 teams will be placed in the AAAA playoffs (semi-finals) after 4 games, and the next 4 teams will be placed in the AAA playoffs, etc. (If the 48+ age group tournament is comprised of 18 teams or more, a 50AAAAA division will be created.) Championship games will be scheduled for each playoff level, and each individual player on each championship level team will receive the highest individual award. Runner-ups and semi-finalists will also receive appropriate individual gifts/awards, as well. A "Pool Championship" award will be presented to the lone, undefeated team before the playoffs begin. The highest level champions (50AAA) will also be honored with their team colors gracing this web page for the next full year. Also, the next national fun tournament souvenir shirt which is given out to all participants will also reflect and honor last year's highest level championship team's colors. Lastly, the tournament team cap that is provided each year to a returning tournament championship team in each division will be specially embroidered displaying their previous year's accomplishment in their team colors. Those championship caps are certainly worn with pride!
During the sixth year of the OVER 60 BASEBALL NATIONAL FUN TOURNAMENT, the week-long event will have up to 8 teams, and the minimum age eligibility will be 57 years old. However, the minimum age may need to be adjusted to insure the viability of the tournament.

HOW DO I GET ON A TEAM? CAN I REGISTER BY MYSELF?
Yes, you can register by yourself, even if you are not actively involved in an Over 50 Baseball league or any other younger age adult baseball league at this time. However, 48 and over teams with active players from any baseball league are also encouraged to enter the tournament. Most teams will be established according to regions or cities in the United States. The tournament director will assign individual (unaffiliated) players based upon their answers in their REGISTRATION QUESTIONNAIRE, especially those answers concerning what city, state, or region they come from. All registrants will know in advance what team they'll be playing on before they arrive in Las Vegas.

WHICH FIELDS WILL THE GAMES BE PLAYED AT?
Games in the 2010 tournament will be played at the finest available fields in the east and southeast Las Vegas metro area (primarily). During the 2009 tournament, many games were played in the suburb of Henderson, Nevada at the beautifully manicured Arroyo Grande Athletic Complex, Burkholder Field, and Paseo Verde Parks, and those facilities will be utilized again. In addition, the Community College of Southern Nevada's beautiful baseball stadium will be utilized during pool play and during the playoffs. Presently, it is anticipated that the above mentioned fields will host many of the 2010 tournament games and some additional high-quality fields will also be used. Remember, the great majority of games will be played utilizing early morning and noon time slots. You'll have plenty of free time in the late afternoon and evening to enjoy the exciting Las Vegas atmosphere. That's why the Over 50 Baseball National Fun Tournament is held in the entertainment and gambling capital of the world.

WILL I GET ENOUGH AT BATS AND PLAYING TIME?
Every team will be required to utilize an extended batting order. Every player present and ready to play will be placed in the batting order every day by his manager. Also, every player will have the opportunity to play defense in every "pool play" game by alternating defensive positions with teammates. In other words, each manager will utilize some form of defensive player rotation (as required by Over 50 Baseball rules) to insure that no one sits on the bench for an entire game. Please remember, this is supposed to be a "fun tournament!" Although winning is great, giving everyone a "fair shake" for the dollars spent is even greater. No other tournament treats its participants in such a fair and equitable manner.
Also, if only one game played each day is insufficient, you will have the option to sign up and/or solicit yourself as an emergency substitute player for any team (no extra charge). Since team sizes are relatively small, extra playing opportunities do become available during the tournament week. In addition, you can also sign up to be entered into the supplemental draft or direct assignment of secondary team players. If you participate and are selected in the draft or assigned directly by the tournament director, you'll be placed onto an additional (secondary) team such as a TEAM USA. As a secondary team player, you will be eligible for awards earned on your secondary team. In addition, because of the uniqueness of the operational procedures of Over 50 Baseball, there will usually never be a scheduling conflict between your primary and secondary teams. You'll have the opportunity to play 2 games every day! The cost to play on a secondary team is only $30-$50 extra. If you have the stamina to play a lot of baseball in one week (up to 12 games), it's a great deal!

WHAT TYPE OF AWARDS WILL BE GIVEN OUT, AND CAN I BE A MANAGER?
Also, based upon surveys, expensive awards do not appear to be that important. If you have any ideas or suggestions concerning specific types of individual awards, please email your opinions and suggestions to Over 50 Baseball. Presently, the manager of an award-winning team will receive not only an individual player award/gift, but a team trophy as well. If you are interested in becoming a tournament manager, you will have the opportunity to request it when you register. If you have any additional questions about team management, please email your request to the NABA National President. Managers will receive compensation for their assistance, which will significantly help to reduce their overall tournament expenses. Also, please note that managers are not normally responsible for handling any monies. Managers responsibilities generally include just field management and communication with their players. Managers who refer a partial up to an entire team receive additional rebates. If you would like to be a manager, but you cannot refer anybody else, you may be assigned as a manager of a tournament-created team.

WHAT MODIFICATIONS TO THE RULES ARE BEING PLANNED TO TAKE INTO ACCOUNT THE OVER 50 BASEBALL PLAYER?
Over 50 Baseball utilizes the National Baseball Congress Rule Book, as well as the National Adult Baseball Association's Manager's Rule Book. In addition, special rule addendums are implemented because of the age group involved. The Official Addendum to the rules for the 2010 Over 50 Baseball Las Vegas "Fun Tournament" were originally implemented in 1999 and improved each year. These unique rules will be fine-tuned for the 2010 tournament. I highly recommend that you review these rules. Please click on this sentence to review the proposed Addendums to the Over 50/60 Baseball National Fun Tournament Rules (which will be available in the late summer). All rules are subject to the approval of the majority of the team managers before the tournament begins.
ARE MEMBERS OF THE NATIONAL ADULT BASEBALL ASSOCIATION (NABA), THE MEN'S SENIOR BASEBALL LEAGUE (MSBL), THE ROY HOBBS BASEBALL ASSOC., ETC. ALLOWED TO PARTICIPATE?
Absolutely! If teams (whole or partial) or individuals from established national baseball organizations or any locally-organized baseball leagues wish to enter the tournament, their fees for each individual player will be the same as everyone else (no surcharges).

HOW DOES A PARTIAL TEAM COMPLETE ITS ROSTER?
If a partial team registers with only 5-8 players, for example, the tournament director will help assign players to that team until it's complete with at least 11 players. The players assigned will, in most cases, come from geographical areas (regions, cities, etc.) near to where a majority of players on that team come from. Also, the tournament director will assign players to teams based upon each team's needs. Depending upon circumstances, it may be necessary to hold a pre-tournament draft or direct assignment of volunteer players (who desire additional playing time) to complete some tournament teams. If such a procedure is necessary, players entered into the draft or through direct assignment will be given the opportunity to play on more than one tournament team for a very affordable cost (see above).

IF FRIENDS OR RELATIVES WANT TO ENTER THE TOURNAMENT TOGETHER AND PARTICIPATE ON THE SAME TEAM, HOW WILL THAT BE ACCOMPLISHED?
Since teams will be established by regions, friends will obviously be playing together on the same team. Friends or family members who wish to play together on the same team but live in different regions of the U.S., should indicate their preference by e-mail or within their Official Registration Form.

ARE UNIFORMS GOING TO BE PROVIDED, AND WHAT TYPES OF BATS ARE ALLOWED?
A game jersey in specific MLB team colors with a number on the back and pro matching baseball cap will be given to each player on each tournament-created team to keep as tournament souvenirs. Complete teams (with their own uniforms) who enter the tournament will be given a discounted price since their players already have team uniforms and probably don't want additional ones. Each player will be required to bring his own baseball pants, socks (stirrups), shoes (rubber, plastic, or steel cleats), under-sleeves, and glove. Although spikes (steel cleats) will be allowed, players will be warned against high-leg sliding, and sliding will not be required of players because of the age group. Catchers should bring their own gear, if they have it. Additional catchers' equipment will be available at all fields, but all catchers must provide their own catcher's mitt and protective helmet while catching. Also, all players must bring their own glove. If you want to bring your own bat, please do so. Metal bats, as well as wood, are acceptable (depending upon the division you select to register for). All metal bats must be marked with the word that they are for "baseball." Also, batting helmets will be provided at each field, but if you wish to bring your own, you certainly should. Since teams will be established before the tournament begins, game jerseys and tournament souvenir shirts will be ordered to fit every participating player.

WHAT ABOUT ACCOMMODATIONS? DO I HAVE TO STAY WHERE EVERYONE ELSE DOES?
Although a combined total tournament-package price which would include private accommodations at an official tournament-host resort is the best deal, you may stay anywhere you want. Please note, however, the tournament-only price combined with hotel rooms acquired elsewhere, may not be as cost effective for you unless you are a casino "high-roller" and receive greatly discounted or "comped" rooms. Also, if you do not stay at a tournament-recommended resort property, you may not have easy/affordable access to daily posted tournament information, results, and updated schedules. Possibly, the most important reason why you should stay at a tournament-recommended resort property is the atmosphere created by the significant number of tournament participants who are also staying there. After the games each day, don't be surprised to meet and soak with other tournament participants in the hotel hot tubs. Away from the baseball fields, you'll get to meet players from all over the U.S., and you'll make a lot of new friends.
CAN I SHARE A SUITE OR HOTEL ROOM WITH ANOTHER PARTICIPANT TO SAVE MONEY?
Yes, you certainly may! However, you'll have to find your own roommate (preferably a teammate). Over 50 Baseball does not assign strangers as roommates. Roommates would add their individual tournament-only costs together with one half of the total cost for their accommodations to determine a per person, double occupancy price. Obviously, one of the roommates would have to purchase the accommodations and then receive half of its total cost from the other roommate.
SHOULD I BRING MY SPOUSE OR A FRIEND?
Yes! Since most people love Las Vegas, what a great vacation it would be for both of you.
CAN I BRING THE KIDS?
Absolutely! However, there will be no special services available for unsupervised children of participants. Also, insurance provisions prohibit children or any other spectator from coming onto the baseball fields. Sorry, no bat-boys allowed.
ARE ANY MEALS OR ENTERTAINMENT INCLUDED?
Because of the convenience of very affordable, quality restaurants and buffets in Las Vegas hotels and casinos, meals will not be included. However, a top-notch buffet dinner and tournament get-together at the ORLEANS HOTEL & CASINO will comprise this year's TOURNAMENT BANQUET. At this annual event held during the beginning of the tournament week, a guest ex-major league star player will make an informative and entertaining presentation that you won't want to miss.
WILL IT BE NECESSARY TO RENT A CAR?
Yes, unless you plan to share a rental car with another participant (probably a teammate playing the same tournament schedule). Most of the baseball fields are located mainly in the southeast Las Vegas metro area, including Henderson, Nevada. For those of you who will need to rent a car, special rates will be made available to NABA Over 50 Baseball participants.
---

MOST IMPORTANTLY, HOW MUCH WILL IT COST AND WHAT ARE THE OPTIONAL ACCOMMODATION CHOICES?
The price for tournament-only participation is $385
The above price of $385 (if you complete registration before September) includes not only tournament participation with umpires, liability insurance, and limited health insurance included, but tournament awards, an MLB team game jersey and matching pro cap for you to keep, a ticket to the Annual Tournament Banquet, tournament commemorative shirt, and a very special and unique tournament gift. Also, for those players who do not have their own batting helmet or catcher's gear, each tournament field is provided with a full set of helmets and catching equipment for players/teams who need to utilize them.
---
OPTIONAL ACCOMMODATION CHOICES IN THE LAS VEGAS METRO AREA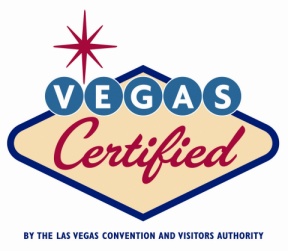 NABA Over 50 Baseball is proud to offer 2 distinctive high-quality and value-based properties during the National Fun Tournament. As the result of continued education and promotion of Las Vegas as a vacation destination, the Las Vegas Convention and Visitors Authority has bestowed upon Over 50 Baseball (for the past 6 years) privileged use of its "Vegas Certified" banner that appears on the right. Only those companies that attain a high level of Las Vegas travel knowledge are granted the right to display that image.
The accommodations listed further below represent a variety of very affordable resorts that mostly emphasize the needs of the extended-stay customer. One of the two resorts emphasize suite accommodations that provide more of a "home-style" experience than what you would normally expect in just a hotel room. This is especially important since the tournament is a week-long event, not just a few days. However, if you would prefer a true Las Vegas hotel/casino experience, the NABA offers an excellent property located near the Las Vegas Strip and many of the tournament fields.
PRICES FOR THE RECOMMENDED TOURNAMENT-HOST PROPERTIES (7-night Sunday to Sunday occupancy) ARE LISTED BELOW. PLEASE NOTE THAT ALL INDIVIDUALLY BOOKED (GROUP-RATE) PRICES DISPLAYED ARE CONSIDERABLY LOWER THAN WHAT YOU WOULD NORMALLY BE QUOTED TO PAY AT EACH RESORT. HOWEVER, PLEASE NOTE THAT WEEK-LONG RATES FOR SIENA SUITES ARE FOR 7 NIGHTS AND CANNOT BE DISCOUNTED FOR FEWER DAYS USED.
---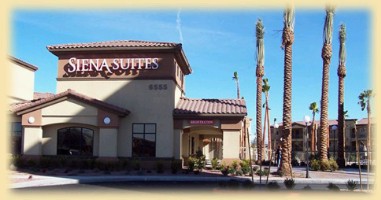 2010 TOURNAMENT RATES FOR ONE BEDROOM SUITES WILL BE FOUND AT THE NABA WEBSITE
Are you looking for a low price and an outstanding value? This year, NABA Over 50 Baseball will proudly again offer SIENA SUITES, a relatively new (originally built in December 2004 and huge expansion in January 2008) all-suite property located on The Boulder Highway just south of Russell Road. Although this location is not very close to the "Las Vegas Strip" (but less than 10 miles away), it's centrally located in relation to most of the baseball fields, it's close to several casinos (including Sunset Station and Sam's Town), and it's close to a major interstate highway. All of the SIENA SUITES units (one-bedroom and two-bedroom suites) have kitchens, which include a full-size refrigerator, a microwave oven, dishes and utensils, plus other fine amenities. The resort also has an exercise room, swimming pools with hot tubs, and self-service laundry rooms. Also, since the resort does not provide daily housekeeping services, complimentary towel exchanges and bathroom amenity re-supply may be done at the front desk whenever necessary. In addition, if housekeeping services are needed, a complimentary midweek service will be specially provided upon request for tournament participants only. Depicted below is a floor plan for a two-bedroom suite (limited availability). Please note that a one-bedroom suite is very similar to a two-bedroom suite, except for the additional bathroom and square footage of the second bedroom. Bedding configurations vary slightly. A one-bedroom suite can have two double beds or one king bed. This is the only resort that offers the most affordable two-bedroom suites with 2 baths, and each such unit will have 2 double beds in one bedroom and one king bed in the other, or both bedrooms can have a king bed in each. However, you cannot request 2 double beds in both bedrooms. This is the only resort that provides within each room in every suite a 25" cable TV. That means there are 2 TV's in a one-bedroom suite and 3 TV's in a two-bedroom suite. Therefore, there won't be any arguing over who wants to watch what on TV, and every suite will also have free ethernet connected (cat 5 cable) high-speed Internet access for your laptop computer, as well as free local and free long distance telephone service is included in your hotel fees. It's truly a "suite deal."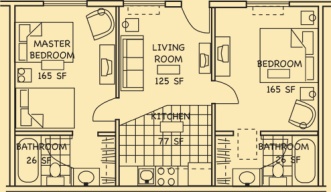 2 bedroom suite
---
INFORMATION ABOUT THE ORLEANS HOTEL & CASINO IS LOCATED ON THE NABA WEBSITE
---
This tournament is designed to provide you an affordable opportunity to play baseball for almost a full week in quality ball parks (somewhat similar to a "fantasy camp"), without the requirement of belonging to any national baseball organization or even an established team. If necessary, you'll be assigned to the most appropriate regional team for your tournament experience.
Please remember that the above listed tournament-only price is subject to change until payments are received by the National Adult Baseball Association. Lastly, airfare to and from Las Vegas is not included in any prices, but recommendations for discount airfare will be provided, if necessary.
ARE THERE ANY DISCOUNTS?
Yes! If you refer other brand new rookie participants, you will receive a discount for each player referred, whether they play with you on your team or not. To encourage players you refer to place your name on their registration forms as the referrer, they will each receive a minor discount, as well. In order to qualify for the referral discount, applicants must indicate by name who the referrer is within the OFFICIAL REGISTRATION FORM.
Lastly, if you are a team manager, you will receive a special discount for your services and other benefits. Please note, as a manager, you will not be responsible for handling any of your team players' monies. Every participant is responsible for making their own tournament arrangements and payments.
---
Do you have a friend, relative, co-worker, etc. who has an email address and might be interested in attending the next tournament? Wouldn't it be great if you could play on the same team together? Just click on the "Send Page to friend" button directly below!
---
ACCESS TO THE OFFICIAL REGISTRATION FORM


AT THE NABA WEBSITE FOR THE 2010 OVER 50 & OVER 60 BASEBALL NATIONAL FUN TOURNAMENTS ARE AVAILABLE NOW!
SPECIAL OVER 50 BASEBALL RULES WILL BE AVAILABLE SOON
CLICK HERE TO VIEW 2000-2007 NATIONAL FUN TOURNAMENT PICTURES

View the Over 50 Baseball Guestbook
Sign the Over 50 Baseball Guestbook

CLICK HERE TO VISIT THE 2004-PRESENT DENVER OVER 60 BASEBALL LEAGUE WEB PAGES


To help you find what you're looking for within this main webpage and most of the Over 50 Baseball website, and also throughout the Internet, please use the search engine directly below. If you are searching for a combination of two or more words, place a + sign directly between the words or bracket the words with " ". Happy hunting!
---
IF YOU WOULD LIKE TO TALK BASEBALL WITH OTHER PROSPECTIVE OVER 50 BASEBALL PLAYERS, JOIN OUR DISCUSSION GROUP DIRECTLY BELOW NOW!

Click here to join the Over 50 Baseball discussion group
---